Dodgeville High School
Class Of 1961
DODGEVILLE HIGH SCHOOL
Dodgeville, WI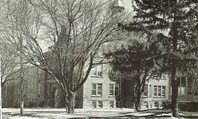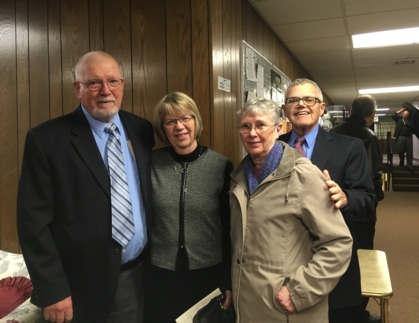 Susan, Cathy, and I attended the funeral of Joel Baumgardt's Mother, Joan,
in Spring Green yesterday. We were able to briefly talk to Joel and his
wife Linda as the funeral for his Mother was very well attended and Joel has
seven siblings.
Joel retired about a year ago but he phased into retirement working 3-days a
week before that. Joel did say he follows "the class newspaper." Susan
hinted strongly that Joel consider the 60th reunion.
We were very pleased to see Joel after so many years.

Larry

Joel Baumgardt's Mother
Baumgardt, Joan K. "JoAn"
Gerald and Joan lived in Chicago, LaCrosse, Montfort, Dodgeville, and Plain, adding nine children to their family over the years, ensuring that the Baumgardt family home was a hub of activity for years to come. She spent many years as a stay at home mom. Her family was one of her greatest joys and something in which she took great pride. She loved being surrounded by her family and having large gatherings at her house.
In 1973, she opened and ran JoAn's, a clothing store in Spring Green. She was known for her keen fashion sense and style. Joan was also known for her kindness, sharp sense of humor, and witty comebacks. She is remembered fondly by many as a gracious, classy woman with a true sense of adventure. Joan loved traveling around the country and the world. She enjoyed golf, bridge club, book club, water aerobics, the Red Hatters, and was a member of Christ Lutheran Church.
Joan's legacy lives on through her large tightly-knit family, including her eight surviving children, Joel (Linda) Baumgardt of Palmerton, Pa., Betty (Bruce) Luedtke of Sugar Grove, Ill., Kim Baumgardt of Reedsburg, Jamie (Ken) Haas of Spring Green, Stephanie (Doug) Kraemer of Spring Green, Patricia (Doug) Westedt of LaValle, Eric (Valerie) Baumgardt of Monument, Colo., and Michelle (Andrew) Olson of Mazomanie, 19 grandchildren, eight step-grandchildren, 16 great-grandchildren, nine step-great-grandchildren, many nieces, nephews, other relatives, and friends. She was preceded in death by her parents; her husband, Gerald Baumgardt; a son, James Baumgardt; a grandson, Christopher Kraemer; two sisters, Dorthea Dunk and Betty Martin; three brothers-in-law, Walter Baumgardt, Milton Dunk and Donald Martin; and a sister-in-law, Julie Baumgardt.
Funeral services will be held on Friday, Jan. 11, 2019, at 11 a.m. at CHRIST LUTHERAN CHURCH in Spring Green. The Rev. John Twiton will officiate with burial in the Spring Green Cemetery. Visitation will be held on Friday at the church from 9 a.m. until the time of service.
In lieu of flowers, memorials may be made to Christ Lutheran Church, Spring Green Food Pantry, or 4PeteSake.
The family wishes to thank the staff at Greenway Manor for their loving care. Online condolences are available at www.staffordfuneralhomes.com. The Richardson-Stafford Funeral Home is assisting the family with the arrangements.

FLASH BACK
Do you remember?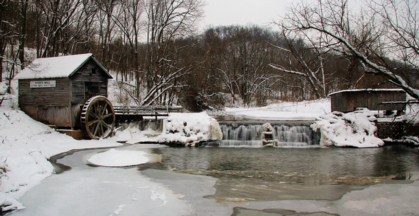 57 years ago on June 2, we the class of '61 graduated from good old DHS.
A video down memory lane.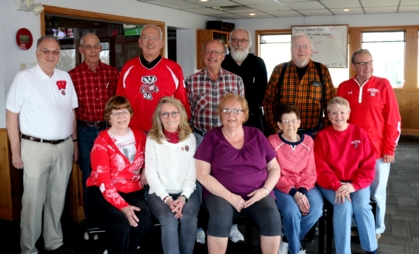 How many years have we been gathering at the 5th Quarter to socialize and then go to the UW Band Concert? We've lost count, but it's such a wonderful annual tradition. We have a very loyal group that makes every effort to get together. LaVern lives in Coloma, Dean comes from Michigan...so don't think that you have to live around Madison to attend! Mark your calendars for the second weekend in April next year. It sounds like the band director, Mike Leckrone, is busy planning already. This year's concert celebrated the 100th Anniversary of Camp Randall. Who knows what next year's theme will be? The concerts are always energy-filled and leave you proud to live in Wisconsin or have Wisconsin connections.
Sue