Dodgeville High School
Class Of 1961
In Memory
Jerome Abraham (Teacher)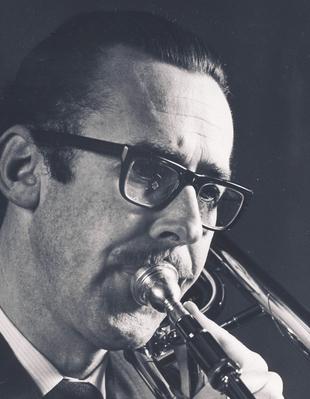 Abraham, Jerome B. (Jerry)

Jerome B. (Jerry) Abraham of De Pere, WI, died on April 24, 2014 after a courageous battle with cancer. He was born on January 21, 1932, in Oshkosh, WI, to the late Rueben and Myrtle Abraham. He attended Howlett, a one room school in Van Dyne, WI, from 1937 -1943. In Fond Du Lac he attended Lincoln School, Roosevelt Junior High, and Goodrich High School where he graduated in 1949. Jerry went to the University of Wisconsin-Madison, graduating in 1957 with a Bachelor's of Music Degree in 1957 and Masters of Music in 1965. He was a music educator in the Dodgeville, WI, Public Schools from 1957-1960 teaching both band and chorus. His teaching career then continued at the University of Wisconsin-Green Bay; there he spent 28 years as an Associate Professor of Music. Note: He was the first full time music teacher at UW-GB and started the first Summer Music Camps at that institution.

Jerry was not only a music teacher but also a soldier serving in the Wisconsin National Guard in Fond Du Lac and Madison and also serving his country in the United States Army of Occupation in Germany from 1954-1956. He was honorably discharged in 1956.

As a performing trombonist, Jerry was privileged to play in a wide variety of groups: the Badger Symphony and the Military Band in Fond Du Lac; the University of Wisconsin-Madison's various concert groups and the Marching Band—the highlight of this experience being marching in the 1953 Rose Bowl Parade and performing at the game; the Third Division Band; the Seventh Army Jazz Band; the Symphony Orchestra, Packer Band, and the Last of the Big Bands, all in Green Bay; and many dance and show bands.

Jerry's interests other than music were RVing, extensive national and international travel, model airplanes, and cultural events. He was also a member of Faith Lutheran Church in Green Bay for 30 years.

Survivors include: his wife of 53 years, Ellen M. Abraham; a daughter, Robin R. Abraham of Menomonie, WI; another daughter, Melody M. Wilkins of Tracy, CA; two grandsons, Noah and Nigel Wilkens of Tracy, CA; two brothers-in-law; one niece; and seven nephews.

Preceding him in death were his parents and three sisters: Marjorie Rehbein, Joyce Craig, and Fern Kirkpatrick.

Family and friends may call Tuesday, April 29, 2014 from 9:00 a.m. until the hour of Memorial Service at 11:00 a.m. at Faith Lutheran Church, 2335 S. Webster Ave., Green Bay, with the Rev. Joshua Errer officiating. Full military honors will follow the service. Lunch will then be served at the church. Entombment will be in the Shrine of the Good Shepherd Mausoleum. Cotter Funeral Home is assisting the family. Online condolences may be expressed at www.cotterfuneralhome.com. In lieu of flowers or other expressions of sympathy, a Memorial Fund has been established in Jerome's name for scholarships at the University of Wisconsin-Green Bay.